Hello! I am Kat Cat, a freelance Motion Designer, Animator, Illustrator based between Athens, Greece and London, UK. Katcat Studio is my creative space. Thank you for visiting :)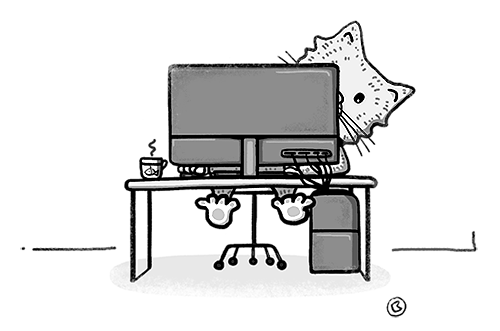 After being a full-time Motion Designer in London for 11 years (Sky, The Box+ Network) and having gained valuable experience in design, animation and branding, I started freelancing in April 2019.
I love smooth animation and I enjoy coming up with simple design solutions that communicate messages in a clear, elegant way. My specialism is 2D animation with After Effects, including 2D character animation, for which I can also create bespoke illustrations and characters.
I have worked for clients such as

Coinbase, Trinity College Dublin, Deloitte, Oatly, the Body Shop, Bibic

and

UiPath.

I have also worked in channel branding for

4Music

and

Magic TV

and for several TV promos and shows while full-time.

​​​​​​​
When not animating I like to wander around big cities or small towns, feeding on art, music, films, architecture and fish.
Concept Development/Design/Storyboard/Styleframes/Assets Creation
2D Animation with After Effects/Logo Design & Animation/Explainer Videos/Promos
2D Character Animation with Limber, Rubberhose or Duik Bassel
Experience of 3D Animation with Cinema 4D
, for highly stylised, illustrative designs
/Knowledge of Redshift Renderer
Experience of hand drawn Animation with Adobe Animate
Experience of Editing with Adobe Premiere Pro
2021 Athens International Digital Film Festival AIDFF-
Finalist for Best Animation
for Odyssey
2021 International Music Video Underground Awards-
August Semi Finalist for Best Animated Music Video
for Odyssey
2010 PromaxBDA UK Awards:
Gold for Best Cross-Media Campaign
for

Sky's TV adaptation of
Terry Pratchett's Going Postal
2006 PromaxBDA UK Awards:
Hallmark Channel Student Award for Marketing and Advertising,
Gold Muse
Adobe After Effects, Photoshop, Illustrator:
Advanced level //
Cinema 4D, Adobe Premiere Pro:
Intermediate level

//
Adobe Animate:
For hand drawn animation.